AuthorBuzz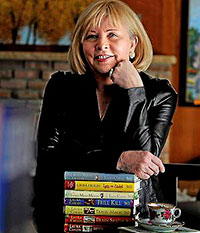 Laura Childs
Dear Reader,
I'm thrilled to bring you PEKOE MOST POISON, the 18th book in my
New York Times
bestselling Tea Shop Mysteries.
When tea shop owner Theodosia attends a "rat tea" at a fancy pants mansion in Charleston, she's knocked out by the waiters wearing white gloves and rat heads — and stunned when the genial host chokes to death on his tea. But the victim's wife begs for help, so Theodosia tries to narrow down the suspects from a certifiably crazy cast of characters.
With pacing that moves like a thriller, PEKOE MOST POISON is a suspenseful guilty pleasure.
Laura Childs
www.LauraChilds.com