KidsBuzz
Everything I Know About You


Meet the author
Barbara Dee
(Ages 9-13)

Summer Supper


Meet the author
Rubin Pfeffer
(Ages 3-7)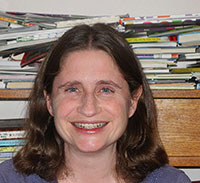 Laura Gehl
Dear Reader,
Halloween is a favorite holiday for many children — including my own four kids. But for other little ones, even visions of lollipops and candy bars can't take away the fear of dark streets filled with sinister characters.
PEEP AND EGG: I'M NOT TRICK OR TREATING continues the adventures of adorable chicks Peep and Egg, introduced last spring in PEEP AND EGG: I'M NOT HATCHING, which
Kirkus
called "delightful and right on target." When I visit schools to present this series, I tell kids that we all have fears — and that we can all overcome those fears. In this installment, Peep cracks Halloween jokes while gently coaxing Egg into her costume. Peep and Egg's strong bond serves as a reminder that everybody needs help sometimes, to scare away the scary stuff.
For a chance to win a signed copy of PEEP AND EGG: I'M NOT TRICK OR TREATING, email
laurameressa@gmail.com
.
Happy Halloween!
Laura Gehl
www.LauraGehl.com
"It's a familiar story of opening oneself up to new experiences, but Gehl's lighthearted dialogue and Wan's chunky, emotive graphics keep it feeling fresh." —Publishers Weekly
"Bold colors, thick lines, and strategic use of white space and panels enhance this preschool-friendly tale about overcoming fears (and receiving candy)." —Horn Book
"Goes down easily for those youngsters who are similarly frightened, and Peep's corny jokes should be added to every repertoire." —Kirkus
"Text and illustrations work well together in this lighthearted adventure." —School Library Journal
"[C]ute, not scary Halloween story" —School Library Journal
I'm Not Trick or Treating / Laura Gehl / Farrar, Straus, and Giroux

Price: $16.99 / ISBN: 978-0374301224 / Published: August, 2016

Ages 1-6 / Picture Book