AuthorBuzz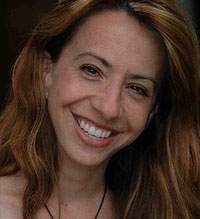 Andromeda Romano-Lax
Dear Librarians,
The English poet John Donne left us with the image of a heavenly library in which every book would lie "open to another."
In this world, too, our books talk to each other, sharing ideas and frames of reference. My second novel, THE DETOUR, tells the story of an apolitical, art-loving young German whose life is interrupted by an unusual assignment. Ernst Vogler must travel to Rome to pick up an ancient statue called
The Discus Thrower
which has been purchased, controversially, by Hitler.
The return road trip, through Italy, changes Ernst's life. This novel adds a personal and emotional dimension to a vast range of historical works about the Third Reich. It complements other wonderful novels about artistic masterpieces, like Tracy Chevalier's
Girl with a Pearl Earring
, as well as novels in which art, politics, and passion collide, like Ann Patchett's
Bel Canto
. It sits comfortably next to memoirs and travelogues, books that help us understand how both memory and experience can transform us. I wrote it in response to my own questions about the importance of art, the dilemma of conscience, and the redemptive power of friendship and love. I hope you enjoy it.
Andromeda Romano-Lax
romanolax.wordpress.com
The Detour
/ Andromeda Romano-Lax / Soho Press / Hardcover; 320 Pages
Price: $25.00 / ISBN: 978-1616950491 / Published: February, 2012
---
Andromeda Romano-Lax is one of our featured authors this week.
Click here
to view her reader comments and feel free to use them in your newsletters.