AuthorBuzz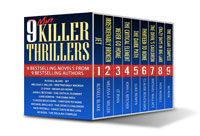 9 Bestselling Authors
Dear Reader,
9 Killer Thrillers for 99c. 
Impossible? No! 
For a limited time only, you can buy this amazing ebook bundle of heart-stopping, edge-of-your-seat full length award winning novels written by all of us. 
Here's the bestselling up:
JET - Russell Blake
Irretrievably Broken by Melissa F. Miller
Never Go Home by L.T. Ryan
The Critical Element by John L. Betcher
The Dark Path by Luke Romyn
Thirteen to None by Claude Bouchard
The Devil's Cauldron by Michael Wallace
Crazy Days in Big Lake by Nick Russell
The Delilah Complex by MJ Rose
And its available everywhere ebooks are sold!
Enjoy,
M.J. Rose and the team