AuthorBuzz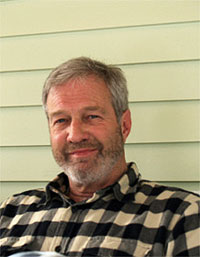 Jim Nichols
Dear Librarians,
When I was a kid our family of eleven would sweep through the little public library in Freeport, Maine, like the Visigoths through Europe, leaving tipped chairs, stunned librarians and empty shelves in our wake. I never lost the feeling that libraries were full of objects worth plundering and so it has been natural for me to want to see my own stories on those sacred shelves.
I've been a little slow about it – we Visigoths aren't the most polished of scribes – but a few years ago managed to convince a small press to publish my collection,
Slow Monkeys and Other Stories
.
Now I have a new book looking for a home on your shelves.
Troy Hull has come upon hard times, thanks to poor fishing, skyrocketing taxes and a new-boat mortgage. When things are at their very worst – he might lose his waterfront property – his old outlaw pal Bill Polky shows up to tempt him with visions of easy money. Now Troy must decide whether to follow Polky's crooked path to solvency or let the straight and narrow take him from his beloved home forever.
Shy Niki Harjula, another former classmate, thinks she knows exactly which way Troy should go. But she has a choice to make too, because pushing too hard might ruin their new and unexpected romance.
HULL CREEK is a tale of temptation, redemption and pure hearts in turmoil, set in beautiful Midcoast Maine.
I'd love to hear from any of you keepers of the Dewey Decimal flame. For a random chance at a free, signed copy of the book please email me at
imnicol@att.net
.
Warm regards,
Jim Nichols
HULL CREEK
"Nichols does a persuasive job of portraying a town and lifestyle in flux...the real deal." -
Publisher's Weekly
"Jim Nichols manages to infuse Troy's tale with a healthy dose of humor. The story, the characters, and the conversations they have feel real. And if HULL CREEK doesn't have a storybook ending, well so much the better. It's a realistic ending, bittersweet perhaps, but Troy finds a way to keep his dignity, keep fishing, and build an even more fulfilling life for himself..." - Linc Bedrosian,
National Fisherman
"I felt so at home with the people of Jim Nichols's HULL CREEK that when the pages came flapping nearer to the end I cussed the author for not making a thousand more. HULL CREEK is the real world: desperate times, heavy-duty hearts." - Carolyn Chute
Hull Creek
/ Jim Nichols / Down East Books / Hardcover; 256 Pages
Price: $24.95 / ISBN: 978-0892729159 / Published: April, 2011
---
Jim Nichols is one of our featured authors this week.
Click here
to view his reader comments and feel free to use them in your newsletters.