AuthorBuzz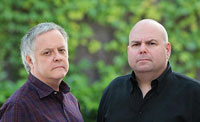 Neal Baer & Johnathan Greene
Dear Reader,
Neal and I are both fans of Alfred Hitchock's movie
Vertigo
, it's his most interesting because it is layered visually and psychologically. When we were writing KILL SWITCH we were able to pull elements of
Vertigo
as homage. We started out with an idea about this character Claire Waters, a forensic psychiatrist, going to deal with a serial killer who's being paroled, and how his behaviors start to affect her, then we devised the story. Claire is very much like Mariska Hargitay's character, Olivia Benson, on
Law & Order: SVU
, she's also looking trying to find biological explanations for criminal behavior.
We're giving away 10 copies of the hardcover edition. Write us at
marketing@kensingtonbooks.com
for your chance to WIN!
Johnathan Greene
kensingtonbooks.com/killswitch