AuthorBuzz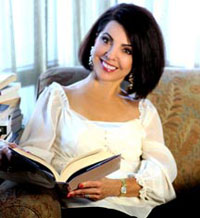 Talia Carner
Dear Reader,
A story tagged as
The Red Tent
meets
A Thousand Splendid Suns
, tells of the feisty Esther's life-long struggle between her passions and her strict society's religious dictates. It sends her to secretly explore worlds outside her religion, city and the Holy Land, as her desire to create art hurls her away from her family into the seductive world of avant-garde era and the allure of the one man forbidden to her—until she faces the bitter question of whether it is ever possible to reconcile her quest for individuality with the demands of her faith.
Starting in 1911, in the ultra-Orthodox Jerusalem under the backward Ottoman rule, JERUSALEM MAIDEN is a "what if" novel inspired by my grandmother's untapped genius. I invite you to join me on the journey with this extraordinary young woman as she challenges God.
You can win either:
A Jerusalem Maiden-labeled bottle of wine made of Jerusalem-grown grapes;
A Holy Land religious package of three bottles: oil, water and sand;
An autographed copy of JERUSALEM MAIDEN.
Write to
MecoxHudson@gmail.com
and tell me what you'd like to be entered to win
Thank you,
Talia Carner
www.TaliaCarner.com