AuthorBuzz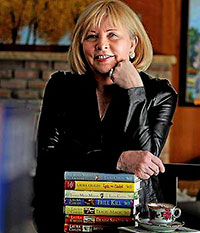 Laura Childs
Dear Reader,
I'm thrilled to bring you PLUM TEA CRAZY, the 19th book in my
New York Times
bestselling Tea Shop Mysteries.
As tea shop owner Theodosia views Charleston Harbor's Gaslights and Galleons Parade from the widow's walk of a nearby mansion, a local banker tumbles over the narrow railing and plunges to his death. But this tragic accident turns sinister when Theodosia discovers that the victim was actually shot with a crossbow.
With pacing that moves like a thriller, it's one of the reasons
Book Riot
named the Tea Shop Mysteries to their list of "25 of the All Time Best Cozy Mystery Series."
Laura Childs
www.LauraChilds.com