AuthorBuzz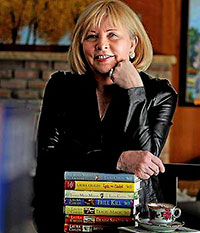 Laura Childs
Dear Reader,
As the Kindred Players hold their dress rehearsal for
A Christmas Carol
, a ghost wafts onstage and murders the star of the show. Suzanne Dietz, co-owner of the Cackleberry Club, rushes after this spooky specter but loses him when he escapes into a snowstorm. Suzanne vows to solve this murder and ends up juggling multiple suspects, holiday tea parties, a second murder, and a devastating fire. True to character, she also maintains her good humor (yes, this book is funny!) and keeps her romance sizzling with the town doctor.
In the tradition of all my previous
New York Times
bestselling cozies, I won't let you down when it comes to heart-warming descriptions, a breathless pace, and homespun recipes!
Laura Childs
www.LauraChilds.com