AuthorBuzz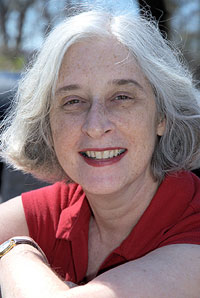 Stephanie Cowell
Dear Reader,
Travel back with me to Paris 1865, a time of young love, friendship and genius. Climb steep dark stairs to a small painters' studio cluttered with art and find the handsome young Claude Monet and the beautiful young woman who will be his model and muse and change his life forever.
CLAUDE & CAMILLE has been called "passionate and enthralling" by reviewers and readers, named one of the top novels of 2010 by
January
Magazine, and recommended by
People
Magazine.
"Stephanie Cowell is nothing short of masterful in writing about Claude Monet's life and love. . .an enthralling story, beautifully told." —
Boston Globe
"Historic verisimilitude cuddles with bodice-ripping fancy in this diverting fictional representation of the Impressionist maverick Claude Monet and his first wife." —
New York Times
"You'll never look at Monet's water lilies the same way after reading Cowell's luminous novel of the artist and his muse." —
Romantic Timesk
"Lovely, touching, delicately written, extraordinarily compelling." — Susan Vreeland
To celebrate the paperback publication of CLAUDE & CAMILLE, I am offering five free autographed copies of the novel. Please e-mail me to enter through my website
www.StephanieCowell.com
. I'd love to hear from you!
With fond regards,
Stephanie Cowell