AuthorBuzz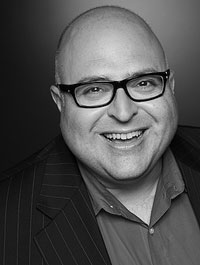 Frank Decaro
Dear Reader,
If you've ever fantasized about diving into Joan Crawford's poached salmon, feasting on Farrah Fawcett's Sausage and Peppers, or wrapping your lips around Rock Hudson's cannoli, hold onto your oven mitts! THE DEAD CELEBRITY COOKBOOK: A RESURRECTION OF RECIPES FROM MORE THAN 145 STARS OF STAGE AND SCREEN is for you.
The book is not just a vintage cookery guide but a personal homage to some of the greatest stars of classic television, beloved films, Broadway, and more. I spent almost seven years sharing my passion for pop culture as the flamboyant movie critic on
The Daily Show with Jon Stewart
—something I now do every day on Sirius XM Satellite Radio — and I couldn't resist doing that here. In THE DEAD CELEBRITY COOKBOOK, I tell you what to cook and what to watch while you're enjoying the fruits — or fish or fowl — of your labor.
So grab a fork and dig in! These are the recipes the stars are dying for you to make! Write my publicist at:
kimw@hcibooks.com
for one of 5 free copies of my tome.
Frank Decaro
www.FrankDecaro.com