AuthorBuzz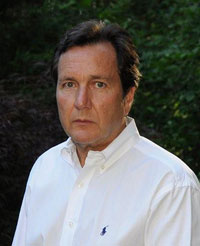 Dean M. DeLuke
Dear Reader,
Dr. Anthony Gianni is a prominent Manhattan surgeon who enters into a racing partnership as a diversion from his thriving surgical practice and an ailing marriage. The excitement builds when the partnership acquires Chiefly Endeavor, a two-year-old colt with the breeding, the spirit, and enough early racing success to qualify for the Kentucky Derby.
When a new partner with an unsavory background appears and a breeder's nightmare becomes real, Dr. Gianni and a dedicated veterinarian must confront organized crime and solve a complex mystery that threatens to destroy both of their careers, and possibly a great deal more.
From rolling pastures to darkened alleyways, from Manhattan's posh '21' Club to a peculiar and mysterious landfill in Eastern Kentucky, and from Saratoga Springs, NY to the tiny island of St. Lucia, SHEDROW portrays a collision of characters from many divergent worlds. High society and the racing elite, medical and veterinary specialists, mob figures, and Kentucky hill folk become entangled in this unique twist on the medical thriller.
Dean
www.shedrow1.com