AuthorBuzz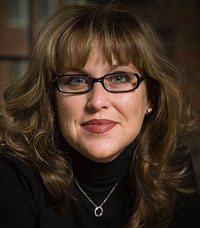 J.T. Ellison
Dear Reader,
Even heroes can lose their minds...
Imagine this. A gunshot has robbed you of your ability to speak. You are alone in an eerie castle in the Scottish Highlands, far away from your friends and your lover. You don't know whether the ghosts surrounding you are real, or hallucinations. Figments of your imagination, or people trying to kill you? What would you do?
When Nashville Homicide Lieutenant Taylor Jackson receives an invitation to recuperate at the home of her friend, James "Memphis" Highsmythe, the Viscount Dulsie, she knows this is the escape she's been looking for. Shot by a suspect, she can't speak, can't work and feels the walls closing in. But can she trust Memphis, the man who has made his intentions toward her quite clear-he'd love to love her. And how can she leave her fiancé, Dr. John Baldwin, behind?
A haunted castle, a forbidden love, and the past closing in... is Taylor losing her mind, or is someone, or something, out to get her?
Come to my website,
www.JTEllison.com
, for a chance to win one of five copies of WHERE ALL THE DEAD LIE. Tell me your favorite ghost story, and win even more: signed copies of the book, the soundtrack, and a video of the Castle Ghosts of Scotland. All entries receive a signed bookplate. Enter at
www.jtellison.com/tao-of-jt/2011/9/19/a-haunted-contest.html
.
All best,
JT