AuthorBuzz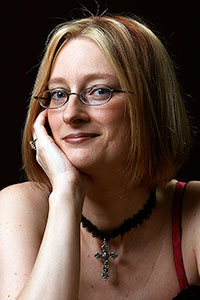 Larissa Ione
Dear Reader,
As an angel, Cipher was a laid-back dude. And laid was what got him an abrupt change in status from angel to fallen angel. Fortunately he got himself a great gig as the Grim Reaper's tech guy. He had a job, friends, and a decent life.
And then he got sucked into a plot that not only pits him against his boss and his friends but it could possibly loose Satan upon the world.
His only hope is a sexy fallen angel named Lyre, whose desperation for revenge has led to questionable choices. But her regret and love could be his salvation...if they can escape the malevolence that wants to swallow them whole...
Please write to
1001DarkNights@gmail.com
for a chance to win one of five copies
Best wishes,
Larissa Ione
1001DarkNights.com