AuthorBuzz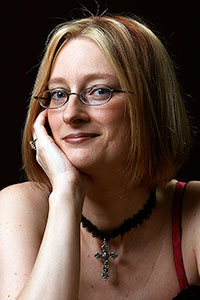 Larissa Ione
Dear Reader,
The Grim Reaper, Azagoth, has always been one of my favorite characters. I gave the Keeper of Evil Souls a happily-ever-after in the first book of the Demonica Underworld series, AZAGOTH, but I wasn't done with him.
A core character in the Demonicaverse, he had a larger role to play.
Now, in the most consequential Demonica novel yet, Azagoth's role is revealed when an ancient enemy abducts his mate and triggers a chain of events whose fallout will be felt for decades to come.
Don't miss the novel that brings an explosive conclusion to all three Demonica/Lords of Deliverance series and sets the stage for a new one.
This changes everything...
Please write to
1001DarkNights@gmail.com
for a chance to win one of five copies
See you in the future,
Larissa Ione
1001DarkNights.com