AuthorBuzz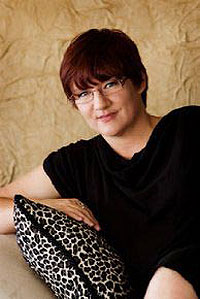 Darynda Jones
Dear Reader,
When classmates were doodling in the margins of their school assignments, I was writing words in them. I loved the fact that, when strung together just so, they could paint a picture of stunning scope and magnitude.
In FIRST GRAVE ON THE RIGHT, I've taken that love and written the story of Charley Davidson, a female private investigator who just happens to have been born the grim reaper. When three lawyers are murdered, they come to her to solve their case. In the meantime, she's dealing with another kind of entity entirely, one that leaves her breathless every time he's near. And the closer she gets to finding out who he is, the more dangerous her world becomes.
I'd love to hear from you. Leave me a note via the Contact Page at
www.DaryndaJones.com
for a chance to win one of five signed copies.
Happy Reading!
Darynda...