AuthorBuzz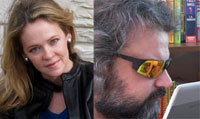 JA Konrath and Ann Voss Peterson
Dear Reader,
FLEE is a high-octane thriller about Chandler, an elite spy, working for an agency so secret only three people know it exists—until her cover is explosively blown. Then she has 24 hours to thwart a kidnapping, stop a psychopath, uncover the mystery of her past, retire five killers, and save the world from nuclear annihilation.
Buckle up... it's one helluva ride.
JA Konrath and Ann Voss Peterson
JAKonrath.com
AnnVossPeterson.com
JA Konrath is the bestselling author of the Jack Daniels mysteries.
Ann Voss Peterson is an award-winning author of suspense.
FLEE is available on Kindle, Nook, Kobo, Sony, Smashwords, iBooks, and in print.