AuthorBuzz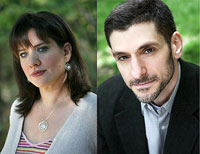 Amir Levine, M.D. and Rachel Heller M.A.
Dear Reader,
STOP!
Wouldn't you want know, starting the first date, if the person you're seeing is worth your time or whether you're headed for a disastrous heartache? Wouldn't you want to learn how to handle relationship situations that used to baffle you with relative ease?
This is the iPhone Meets Oprah Relationship Book. Just as Oprah has a way of bringing that personal human touch, you will find the stories in this book compelling and real. But it's much more than relationship bedroom gossip. This book is the social sciences equivalent of an iPhone because it delivers, for the first time, highly technical social science data about relationships in a user friendly intuitive platform for all of us to use. Once you read it, you'll know you can't go back to that old flip phone. You've entered the relationship smartphone realm for good.
"A lightbulb read", "For EVERYONE" — Amazon readers reviews
We're giving away five books plus cool love pens. Write to us –
attachedthebook@gmail.com
– to win!
Amir Levine, M.D. and Rachel Heller M.A.
www.AttachedTheBook.com