AuthorBuzz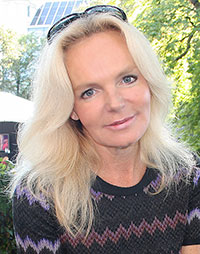 Lucinda Riley
Dear Reader,
A fresh and compelling crime novel written by Lucinda Riley who sadly died in 2021. This note is from her son, Harry Witaker. Together, they created the Guardian Angels series for children.
THE MURDERS AT FLEAT HOUSE, although it has never seen the light of day, was written in 2006. Mum was hugely proud of this project. It is the only crime novel she ever wrote but loyal readers will instantly recognise her unrivalled ability to capture a sense of place. I'm sure it will interest you to know that, at the time of writing, my family lived in the vast, mysterious landscape in which the story is set. What's more, the Norfolk school featured in the book was heavily inspired by the one which we, her own children, attended. Thankfully, I can confirm that nothing so dramatic actually took place in the corridors of the boarding houses.
As you might expect, hidden secrets from the past strongly influence present day events and we are treated to some typically superb characterisation in the form of DI Jazz Hunter who, I'm sure you'll agree, has the potential to anchor a series of her own.
Perhaps she would have, in another life.
Harry Whittaker
www.LucindaRiley.com