AuthorBuzz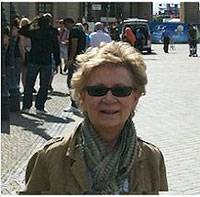 Minerva Taylor
Dear Reader,
Did one of the Tsar's children survive the 1918 massacre at Ekaterinburg? 
In 2002, Deputy Sheriff Roo Yoder hunts for a hundred-year old treasure and a killer when his high school friend, a financier, is murdered. The only clue: a fragment of a 1900's share certificate — worth a fortune if the other half can be found. In Baku, he discovers his great uncle's connection to the Romanovs during the revolution and a clue leading to the treasure.
Write to 
minervataylor.two@gmail.com
for a chance to win a book.
Minerva Taylor
www.TheBloodStiller.com