AuthorBuzz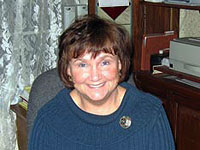 Linda Windsor
Dear Reader,
In THIEF a former villain turns hero, proving an old Scottish proverb, Love of our neighbor is the only door out of the dungeon of self, true. Caden's "door" is to bring home the long lost daughter of his healer—the gentlewoman who spared him a death he craved to escape guilt over his betrayal of family and a shameful exile. All he needs to do is convince the now womanly and ox-stubborn bardess to go with him. Abducted at age seven by Saxon raiders, Sorcha's engaged to a wealthy lord and has her own mission to rescue kidnapped British children from slavery. Until murder and treachery force them to flee for their lives with the help of a dwarf and, maybe, an angel.
Visit my website (
www.LindaWindsor.com
) and sign up for a chance to win a Sterling Scottish Thistle Necklace and an autographed copy of THIEF. Four other lucky winners will received an autographed copy of the book.
Linda Windsor