AuthorBuzz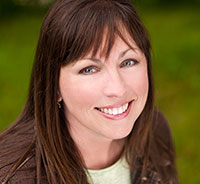 Rebecca Zanetti
Dear Reader,
From day one, psychologist Mariana wonders why tough guy Raine Maxwell shows up in her anger management group. The guy seems totally in control at all times and he barely participates. Then she finds out that not only do vampires exist but he's one from a wild family known as dangerous outcasts, even in the immortal world.
If that's not enough, vampires aren't like the legends of old. They're hot blooded, sexy, and don't need blood. However, what sexy Raine does need...is her. What's a modern woman to do with that fact?
It was tons of fun finding out! I hope you enjoy Mariana and Raine's story in the Dark Protector world!
Please write to
1001DarkNights@gmail.com
for a chance to win one of five copies.
XO
Rebecca
www.1001DarKnights.com