KidsBuzz
The Journal of Angela Ashby


Meet the author
Liana Gardner
(Ages 9-12)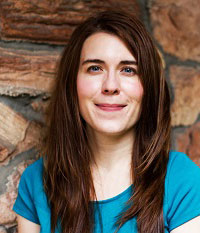 Heather Fawcett
Dear Librarians,
EVEN THE DARKEST STARS is a YA fantasy novel inspired by early twentieth-century expeditions to the Himalayan mountains. I've described it in the past as a mountaineering expedition with magic and monsters. The characters are diverse and the story is infused with elements of Tibetan and Nepali culture.
While the book explores a variety of relationships — including friendship and romantic relationships — it is at its core a story about two sisters and the complicated love/rivalry dynamic that's so common among siblings. 17-year-old Kamzin (a headstrong aspiring explorer) and her elder sister Lusha (the pragmatic future Elder of their village) each have their own strengths, and one of my favourite parts of the book is how they grow to recognize this as their relationship matures. I think it's something that a lot of teens with siblings (whether they are aspiring explorers or not) can relate to.
For a chance to win a signed copy, email me at
heather@heatherfawcettbooks.com
.
Heather Fawcett
www.HeatherFawcettBooks.com
There are glimmerings of a love triangle here, but the focus remains squarely on Kamzin's brutal trek through the icy mountains, a fascinating fantastical twist on early expeditions to Mount Everest. Add in a detailed, well-realized setting, an unsettling villain that lingers just off the page, and buckets of danger to result in an utterly inventive and wholly original debut. —
Booklist
(starred review)
With a dash of romantic entanglement, a rich original mythology, and a sizzler of a twist at the end, this duology opener will appeal to fans of femalecentric fantasy by such authors as Leigh Bardugo and Sarah Maas. —
Kirkus Reviews
"Fawcett brings snow-capped mountains--and their baleful secrets—alive in this magical, atmospheric debut." —Evelyn Skye,
NYT
-bestselling author of THE CROWN'S GAME
"Brilliantly rendering aspects of mountaineering, debut novelist Fawcett makes readers feel the constant danger and bitter cold. Readers will want to grab their chuba, or cloak, as they consult Mingma's famous map and nibble on yak cheese.… Fawcett effectively fuses magical elements with a realistic and deadly journey....Readers will connect easily with Kamzin's determination to be an explorer and eagerly await a sequel." —Amy Cummins, Voice of Youth Advocates
"A deeply satisfying feast for fantasy-lovers. It has dragons, witches and ghosts as you've never seen them before, magic and thrills aplenty, and characters that you will gladly follow to the ends of the earth – or to the summit of the tallest mountain in the world. I fell in love with this book from the earliest pages and have left the gnawed off pieces of my heart scattered across the Aryas." —Catherine Egan, author of JULIA VANISHES and JULIA DEFIANT
Even The Darkest Stars
/ Heather Fawcett / HarperCollins/Balzer and Bray
Price: $17.99 / ISBN: 978-0062463388 / Published: September, 2017
Ages 12-15 / Hardcover / YA
---
Heather Fawcett is one of our featured authors this week.
Click here
to view her reader comments and feel free to use them in your newsletters.