KidsBuzz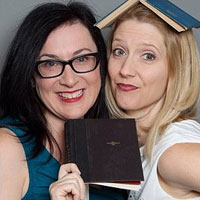 Kim Askew & Amy Helmes
Dear Reader,
A recent survey found that only 1 in 3 young people knew who Shakespeare was. (Gasp!) We're doing our small part to reverse that trend with our "Twisted Lit" YA novels.
Our latest book, PUCK, brings Shakespeare's characters and universal themes to page-turning new life in a clever interpretation of
A Midsummer Night's Dream
. Fans of the playwright will clamor for our other tip-of-the-hat titles, including TEMPESTUOUS, ANYONE BUT YOU, and EXPOSURE, while those who think reading The Bard is mostly "toil and trouble" can appreciate these modern-day YA twists for their own merit.
Take a look and see for yourself!
Enter to win a free copy by emailing
twistedlitbooks@gmail.com
.
We would love to Skype with you or visit your Southern California area library or school! Email us for info and check out our website at
TwistedLitBooks.com
. And follow us on Facebook.
Happy reading,
Kim and Amy
TwistedLitBooks.com
Puck / Kim Askew & Amy Helmes / Doublet Press

Price: $14.99 / ISBN: 978-0998161303 / Published: November, 2016

Ages 14-18 / YA