KidsBuzz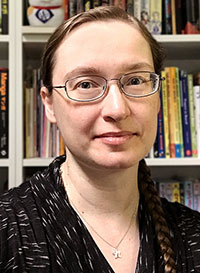 Svetlana Chmakova
Dear Reader,
What's a kid to do if their best friend suddenly ditches them? Or if their social circles start self-destructing?  How can a kid deal with the weight of the world's expectations of them, the pressure to win and succeed? How do they hold on to their self-esteem, especially after failure?
These were questions I struggled with as a kid, not realizing I wasn't the only one; and these are the questions that Felicity and her friends face in ENEMIES. It was so gratifying to learn how deeply kid readers connect with my Berrybrook series—not just because the books are funny and entertaining, but also because they're a heartfelt look at the intense emotional mess middle school life can be, with ideas on how a kid might try to get through it in one piece. 
Thank you for reading!
Svetlana Chmakova
www.svetlania.com
"Essential. Audience appeal: High. Kids love this series so much. Chmakova writes for this age so well, that the kids at my school read and re-read them. So much drama, friendships on the brink, troubles with a sibling, and who likes who....So happy to add ENEMIES to the collection." —
Kiss the Book
(librarian review blog)
"Svetlana Chmakova does it again, making me nostalgic for one of the worst eras of my life — middle school." —Sara Wigglesworth, Green Apple Books & Music, San Francisco, CA
"Another great installment in the Berrybrook series. My favorite so far, it deals with success and failure, responsibility, pressure from peers and family, and time management. As always, shows diversity and inclusivity." —Lauren Wilder,
Reader's Advisory
Enemies / Svetlana Chmakova / JY

Price: $13.00 / ISBN: 978-1975312725 / Published: September, 2022

Ages: 10+ / Middle-grade Graphic Novel