KidsBuzz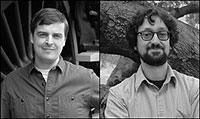 Cam Baity & Benny Zelkowicz
Dear Reader,
We think we might have broken our brains. You see, before we were authors, we were stop-motion animators, moving wire and clay frame by frame to create the illusion of life. So after years working on projects like
Spongebob Squarepants
and
The LEGO Movie
, we couldn't stop imagining that the everyday objects around us were secretly alive, with schemes, dreams, and desires.
That's how Mehk was born, a world of living metal and organic machines.
Now, with the release of BLAZE OF EMBERS, our BOOKS OF ORE trilogy is complete. We've watched our heroes, Phoebe and Micah, grow from bitter rivals into brave companions as they faced dangerous adventures that challenged everything they thought they knew.
We want to invite you all to visit Mehk! Email
us@camandbenny.com
for a chance to win signed copies of books One and Two. And check out
BooksOfOre.com
.
Blaze the Way!
Cam & Benny
BooksOfOre.com
PRAISE FOR THE BOOKS OF ORE:
Cam Baity & Benny Zelkowicz have created an absolutely original, mind-blowing world that is filled with both peril and beauty. The mettle is in the metal in this universe. I found myself traveling through it in constant awe while getting lost in the unique imaginations of these two gifted writers. —D.J. MacHale, Bestselling author of The Pendragon Series and the Sylo Chronicles Trilogy.
PRAISE FOR BOOK 1:
Baity and Zelkowicz put their experience as animators to work, describing the alien metal world and its mindbendingly outlandish denizens with such an eye for visual detail that they clatter to life on the page. The imaginative world, whirlwind adventure, tense emotional stakes, and some well-placed laughs put this first in a planned series in the same stack as Harry Potter and Percy Jackson. —
Booklist
The authors have created an imaginative and profound world. The descriptions of the Mekhans are so original and detailed, readers might think these creatures actually exist.... Combining elements of fantasy and steampunk, The Foundry's Edge explores how the exploitation and destruction of one group unfairly advances another. A fine addition to any middle grade collection. —
School Library Journal
Debut authors Baity and Zelkowicz are both film animators, and here, they work together to create an easily visualized, rollicking ride that explores the dynamics of power and resistance in various incarnations — both human and metallic... An edgy, fast-moving, Seuss-ian political allegory for a new generation. —
Kirkus Reviews
Baity and Zelkowicz, animators and artistic collaborators whose credits include work on such shows as
Robot Chicken
and
Moral Orel
, make their fiction debut with this richly imagined fantasy, first in a trilogy... Baity and Zelkowicz have created a memorable setting that owes less to steampunk than an atmosphere of retro-futurism, and the authors' prose is stuffed with lavish descriptions... a solid start to the series, filled with storytelling potential. —
Publishers Weekly
A stunning achievement. —
San Francisco Book Review
PRAISE FOR BOOK 2:
A brainy, action-packed fantasy outing even more complex and sophisticated than series opener THE FOUNDRY'S EDGE (2014). —
Kirkus Reviews
Baity and Zelkowicz's world building is as vivid and cinematic as in the series opener, though readers unfamiliar with that title will be hopelessly lost. A cliffhanger ending guarantees at least one more volume. —
Booklist
"Will appeal to readers who prefer to immerse themselves in complicated, imaginative worlds that draw upon classic sci-fi/fantasy motifs as touchstones. Baity and Zelkowicz's living world of metal is distinctive, and fans will find much to like...those already immersed in this rich mythology will not be disappointed. —
VOYA Magazine
Blaze of Embers / Cam Baity & Benny Zelkowicz / Disney Hyperion

Price: $10.99 / ASIN: B06XDYD99S / Published: April, 2017

Ages 10-14 / Kindle Edtion / Middle Grade fiction