KidsBuzz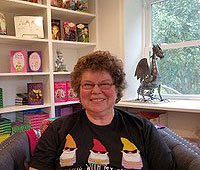 E.D. Baker
Dear Reader,
In MORE THAN A PRINCESS, Aislin, a half fairy, half pedrasi princess, sacrificed her own safety and used her inner strength to protect both sides of her family. 
In the sequel, POWER OF A PRINCESS, Aislin helps her family restore the balance of the fairy and human worlds, choosing loyal friends as her ladies-in-waiting even when they don't have the usual qualities of princess confidantes.  When her choice of friends causes even more problems than anyone anticipated, Aislin proves, despite all doubters, that she has confidence in her choices and in herself. She follows her heart and does what she thinks is right, no matter what anyone says.
Email 
edbakerbooks.assistant@gmail.com
 to enter to win a free copy. 
E.D. Baker 
www.TalesOfEDBaker.com
"I love Aislin as a main character. She's so strong and smart and willing to accept help but isn't helpless. She's so caring and kind as well.... ED baker has sucked me in again to get another series!" —Alyssa Marie,
Goodreads
"I shared this book with my 9-year-old daughter and we enjoyed reading this out loud to each other. E.D. Baker continues Aslin's story in POWER OF A PRINCESS in a fun, thought-provoking way that all ages can appreciate." —Amanda, Goodreads.com 
Reviews for MORE THAN A PRINCESS—
"Aislin is unfailingly brave and resourceful... Baker's world building is perfectly attuned to young sensibilities as she presents a realm of physical beauty, interspecies harmony, and mixed-race familial love for readers to visit and for Aislin to call home." —BCCB, on MORE THAN A PRINCESS
"Aislin's journey to self-acceptance is rewarding, and readers will easily draw parallels between Aislin's world and their own." —
Publishers Weekly
, on MORE THAN A PRINCESS
"Whenever Aislin heads outdoors, [the] author's gift for synthesizing nature and magic comes into play.... A quirky, imaginative tale." —
Kirkus Reviews
, on MORE THAN A PRINCESS
"Self-esteem building in a lively package for younger middle grade readers who enjoy light magical adventure tales." —
School Library Journal
, on MORE THAN A PRINCESS
"Baker (the Frog Princess series) gives this series starter a familiar, Disney feel, which will engage younger readers, while themes of courage and self-acceptance give it a powerfully positive message." —
Booklist
, on MORE THAN A PRINCESS
Power of A Princess / E.D. Baker / Bloomsbury Children's Books

Price: $16.99 / ISBN: 978-1681197692 / Published: November, 2018

Ages: 8-11