KidsBuzz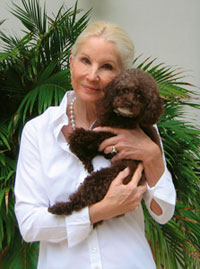 Cynthia Bardes
Dear Reader,
Have you met Pansy? She is a brave little poodle who solves mysteries with the help of her best friend, a little girl named Avery.
In PANSY IN PARIS, Pansy and Avery get a letter from the Mayor of Paris, France. He needs them to help figure out who is stealing paintings from the museum. With only one clue, Pansy and Avery follow the trail, seeing lots of interesting sights along the way. They solve the mystery, catch the thief, and get the art back for the people of Paris. The two best friends are heroes!
I hope Pansy inspires you to look carefully at the world around you, help other people, and appreciate your best friend — whether she is a person or a poodle!
Email me at
bardescynthia@gmail.com
to enter to win a signed copy.
Cynthia Bardes
www.CynthiaBardes.com
"You are never too young to enjoy a mystery with charm, excitement and a heroine you love. Add in a trip to Paris, and you have a winner." —Anne Perry,
New York Times
best selling author of more than 70 mystery novels
"Adorable...enchanting... delightful illustrations and a fun mystery that little ones will applaud!" —Leslie McGuirk
Pansy in Paris / Cynthia Bardes / Octobre Press

Price: $18.95 / ISBN: 978-0615840192 / Published: March, 2014

Ages 3-8 / Picture Book