KidsBuzz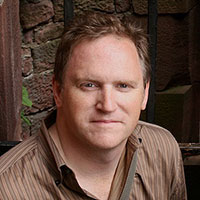 Robert Beatty
Dear Reader,
As I wrote the first three books of the Serafina series, I found myself honing in on what I most love to write. My fourth novel, WILLA OF THE WOOD, takes place in the Great Smoky Mountains and springs from my lifelong love of forests and the wildlife they contain. My daughter Camille and I conceived many of the concepts, themes, and details of the book while exploring the tumbling rivers and hidden dells of the Smokies. 
The reader experiences the story from the point-of-view of a 12-year-old girl with the ancient powers of the forest within her. Willa sees the newcomers to her realm as evil intruders. She encounters white pioneer homesteaders building their log cabins, Cherokee struggling to survive, railroaders blasting the river gorges, and industrial loggers slashing down the trees. An orphan, and one of the last of her kind, Willa must find a home in a drastically changing world.
Like the Serafina books, WILLA OF THE WOOD is filled with history, mystery, and magic. I hope you and your readers enjoy meeting Willa in her first adventure.
Email
robertbeattystaff@gmail.com
to enter to win a free copy.
Robert Beatty
robert-beatty.com
Robert Beatty is the author of the #1
New York Times
best-selling Serafina series published by Disney Hyperion, a spooky mystery-thriller about a brave and unusual girl who lives secretly in the basement of the grand Biltmore Estate. All three books in the series hit the list, received starred reviews, and are enjoyed by both young readers and adults. The Serafina books are being taught in over a thousand classrooms nationwide. Robert Beatty lives in the Blue Ridge Mountains of Asheville, North Carolina with his wife and three daughters, who help create and refine his stories. 
"A Best New Fantasy Book for Kids Ages 9-12. If your kid loved the Seraphina books, then WILLA OF THE WOOD is a must-read....will keep your bookworm glued to the page." — Batch of Books
"Beautifully written.... WILLA OF THE WOOD would take a center stage in my classroom or school library." — Reading and Lit Resources
"I was unprepared for the flat-out gorgeousness of WILLA OF THE WOOD.... Willa is a complex character ... a bridge between two distinct cultures who inherently mistrust each other. Highly recommended."  — It's All About the Book
"A moving, atmospheric journey of hope." —
Kirkus
"Very unique... and one that I highly recommend." — Book Critic Blog
Willa of the Wood / Robert Beatty / Disney-Hyperion

Price: $16.99 / ISBN: 978-1484775042 / Published: July, 2017

Ages 8-12