KidsBuzz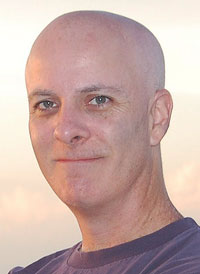 Joshua David Bellin
Dear Reader,
What would you do if you woke up one morning and couldn't remember anything about your life?
Including who you are.
That was the question that gave birth to my YA science fiction novel SURVIVAL COLONY 9. My narrator, Querry Genn, is a teen living in the harshest conditions imaginable: a desert world stalked by the Skaldi, monsters with the ability to mimic human hosts. And due to an accident, Querry's lost everything from his past, even his own identity.
Without a memory, Querry's a risk to the members of his colony. Without a memory, he's not sure if Korah, the beautiful girl in Survival Colony 9, is simply being friendly or if there's more to their past. Without a memory, he doesn't know if his friends are just acting strange or if there are monsters in their midst. And without a memory, he doesn't know how to find out.
What would you do?
To learn more about SURVIVAL COLONY 9, visit my website (
www.JoshuaDavidBellin.com
) or social media links:
Twitter:
@TheYAGuy
Facebook:
www.facebook.com/joshuadavidbellin
Blog:
theyaguy.blogspot.com
I'm offering free signed copies of SURVIVAL COLONY 9. For a chance to win, email me at
joshuadavidbellin@gmail.com
. Winners will be chosen randomly from all entries.
Happy reading!
Josh
www.JoshuaDavidBellin.com
Here's what people are saying about SURVIVAL COLONY 9:
"Joshua David Bellin brings serious game in a post-apocalyptic thriller that collides breathless action with devious world building and genuine heart. A terrific novel!"—Jonathan Maberry,
New York Times
bestselling author of
Rot & Ruin
and
V-Wars
"Gripping and action packed. Just when I thought I knew what was coming, another twist would shock me. Superb!"—Heather Anastasiu, author of the Glitch trilogy
Survival Colony 9 / Joshua David Bellin / Margaret K. McElderry Books

Price: $18.99 / ISBN: 978-1481403542 / Published: September, 2014

Ages 14+ / Hardcover / YA science fiction