KidsBuzz
I Do Not Like the Rotten Egg Scent in Yellowstone National Park


Meet the author
Penelope Kaye
(Ages 4-8)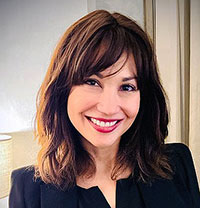 Lenore Borja
Dear Reader,
I once asked my 7-year-old niece if she wondered what it would be like to enter a mirror. She replied, "Every single day."
Mirrors are funny things. They show us what we need to see, but not always what we want. The truth is, they're ambivalent. They simply reflect and we interpret that reflection.
But what if mirrors were more than just reflective glass? What if they had something to hide?
Enter my YA fantasy novel, THE LAST HUNTRESS. It's a story about a girl named Alice who, on her 18th birthday, learns she has the power to enter mirrors and the magical world that exists behind them. In this Mirror Realm, Alice and her three huntress sisters must battle gods and demons to protect humanity and save her true love's soul.
Email me at
lenore@lenoreborja.com
for a chance to win a signed copy.
Lenore Borja
www.LenoreBorja.com
"Borja's series opener radiates the youthful, sisterly glow of classic TV shows like 
Buffy the Vampire Slayer
 and 
Charmed
.... Strong characters remain the focus in this confident, imaginative fantasy." —
Kirkus Reviews
"...[A]fter I finished it, I wanted more! ...Borja managed to create a well-balanced novel that kept me engaged, and it was hard to put down!" —Readers' Favorite, 5-star review
"You'll never look at a mirror the same way again. Buckle up before entering the Realm." —Turney Duff, 
New York Times
 best-selling author of 
The Buy Side
"THE LAST HUNTRESS is a fun fantasy with a cool sisterhood vibe and a swoony romance!" —Molly E. Lee, author of the Ember of Night series
"Lenore Borja combines the magic of female friendships with the power of timeless love in this magnificent tale of gods and destiny." —Alison Levy, award-winning author of The Daemon Collecting Series
"Immersive. Imaginative. Intriguing. THE LAST HUNTRESS is layered in Greek mythology, adventure, and romance in a way that will touch your soul." —Jen Braaksma, author of 
Evangeline's Heaven
"Borja spins a fantastic tale of found family and fated love. A perfect blend of modern and mythic fleshed out with distinct characters and vivid details. Fans of YA paranormal romance won't want to miss this modern day Greek myth set in a familiar yet uniquely realized world." —L. R. Braden, award-winning author of The Magicsmith series
The Dregg Disaster / Lenore Borja / Chooseco

Price: $19.99 / ISBN: 978-1937133931 / Published: October, 2022

Ages: 11+ / Middle-grade Gamebook