KidsBuzz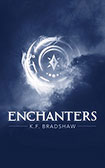 K.F. Bradshaw
Dear Reader,
I've always been a big fan of stories set in magical worlds, especially ones where the heroes set off on an epic quest and overcome impossible odds to achieve their goals. The stories are even more enjoyable for me when the cast features not just one, but several leading ladies.
But what if these magical worlds lost the very thing that makes them so special?
I wrote ENCHANTERS because I wanted to explore that very question. What's it like growing up with magical abilities but unable to cast spells whenever you want because it's against the law or too dangerous? What happens when a world powered by magic loses its lifeline?
ENCHANTERS is the first entry in a new YA fantasy trilogy. It explores the world of Damea, where magic is running out, and features a fast-paced, action and dialogue-driven story with coming of age themes and strong female protagonists.
I am so excited to share this with you and would love to chat on Skype or Tumblr about it! Email me for info and for a chance to win a signed copy at
contact@enchantersnovels.com
.
Cheers!
K.F. Bradshaw
EnchantersNovels.com
@enchantersbooks
"Fantastic worldbuilding" —Reading Alley, RomancingTheBooks (romancingthebooks.com)
"A wonderfully written, well thought-out novel. The characters are relatable, well-rounded, and after reading through the whole book, feel like familiar people you've met before. The story is immersive and takes you along for the adventure as well, as though you were a part of this fantasy world that was created. " —Amazon, Amazon Customer
"An interesting spin on an apocalypse, what with the slow decline of magic rather than it suddenly disappearing in a cataclysm. The plot is well thought out and has great pacing, it never felt like it dragged. The characters feel like they're their own people, they're believable and they are easy to relate to." —Goodreads, Johanna A.
"An immersive story filled with magic and a creative world." —Amazon, Amand
"Would highly recommend it to whoever wants a great story filled with magic and adventure." —Goodreads, Daniel K.
"Engaging and wonderfully paced, with excited and multi-dimensional characters, well thought out and unique locations, and a strong goal that grips you tight and keeps you at the edge of your seat." —Goodreads, Erin D.
Enchanters / K.F. Bradshaw / Wishbox Press

Price: $34.99 / ISBN: 978-0998751801 / Published: March, 2017

Ages 15+ / Hardcover / YA fiction