KidsBuzz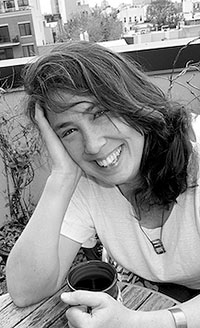 Liz Braswell
Dear Reader,
Monsters are real... and stuffed animals really do protect you from them at night. It's true!
When I was little, every night before falling asleep I would carefully arrange my stuffed animals around me on either side, facing out — so they could watch for the monsters I wouldn't see coming while I slept.
(I also added up their 'stats' to try and figure out how powerful they would be against any given monster.)
STUFFED is a story I've wanted to tell for a long, long time now. It's about a boy who is not quite ready to grow up — or at least fit in with traditional ideas about growing up. It's about fears real and imagined, unconventional friendships, monsters and stuffed animals, and the power of love over darkness.
Email
ME@lizbraswell.com
for a chance to win a free copy.
Liz Braswell
LizBraswell.com
"Take a journey into the Dark with this thrilling story about family, courage, and friendship. Clark won me over from the very beginning, and all readers will wish they had a Stuffy like Foon!" —Elizabeth Lim, author of 
Spin
"The perfect blend of creepy and cool! Kids will never look at their stuffed animals the same way again!" —Jen Calonita, author of the Fairy Tale Reform School series
"STUFFED proves those of us who still sleep with stuffed animals have been right all along." —James Riley, 
New York Times
 best-selling author of the Story Thieves series
"A warm and engaging tale." —
Kirkus
Stuffed / Liz Braswell / Disney-Hyperion

Price: $16.99 / ISBN: 978-1368037013 / Published: January, 2020

Ages: 8-12