KidsBuzz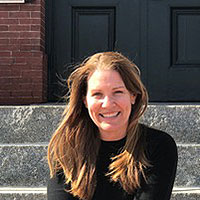 Jennifer Butenas
Dear Reader,
Meet Zac, Ben and Emilee who find the joy in the simplest of activities. This busy family carves out some time after dinner and before bed to spend together and to just be. Captured for all time with a camera, they draw with chalk, throw a baseball, bounce a basketball, and finally arrive at the big climbing tree.
Like in my first book,
A Moment In Time
, the cherry red bird is back waiting for you to spot her on each page.
Written with a melodious beat that will get kids tapping their toes, it is perfect to read aloud for storytimes, a mentor text for teaching small moment narratives and a refreshing story to inspire kids to create your own unique moments in time. The end pages are adorned with year round pictures of the family's special times, giving the look of a photo album. A FAMILY WALK captures the delight, the joy and exhilaration a mindful moment can bring!  
Email
theperfectmomentllc@comcast.net
to enter to win a free copy.
Enjoy,
Jen Butenas
A FAMILY WALK - Buy at Amazon
Proud GOLD winner of the Mom's Choice Award honoring excellence
—Amazon
"Both
A Moment in Time
and
A Family Walk
have great message for kids and parents alike to "slow down and take in the moment!"
—Nicole Mazur-Pitcher, Director and Teacher at Junior Gym
"As a primary teacher, we are always searching for great read aloud books, and this is one! the children were delighted by the rhymes and bright pictures! Wonderful message about the joys of family time as spring approaches!"
—Wren Hayes, Director and Teacher Building Block School
"What a great story to share with my students! In kindergarten, we spend time working on personal narratives and
A Family Walk
is a wonderful representation full of colorful illustrations. My students also enjoyed the rhyming throughout and making text to self connections!"
—Lee Anne Miller, Kindergarten Teacher
"What a wonderful message to children and families, not only to have precious time together but to spend that time enjoying the outdoor world! I love stories that have rhyme, and I thoroughly enjoyed how this book was put together so elegantly."
—Hayley Van-Gils, Children's Librarian Kingston Library
"Jen Butenas has written another great picture book that should be included in classroom libraries.  The rhyming and vivid language make it a great mentor text for teaching word choice.  The importance of taking time to be a family and  enjoy the small moments continues to be a strong theme in the sequel to 
A Moment in Time
."
—Amy Wilson, 4th grade Elementary Teacher
"As a Clinical Mental Heath counselor, this book meets children at their development stage and engages its readers with its rhymes and beautiful illustrations. Each age group can relate to taking a moment with family to enjoy life's simple pleasures. Spending time with your children, like on a family walk, is vital to their psychological and emotional well-being. Mindfulness is such an important topic to teach and this book demonstrates that perfectly. What a great addition to my bookshelf at my office.
—Franchesca DeMaria, LCMHC Exeter, NH
A Family Walk / Jennifer Butenas / Perfect Moment Publishing

Price: $9.99 / ISBN: 978-0984003921 / Published: March, 2019

Ages 3-10 / Picture Book