KidsBuzz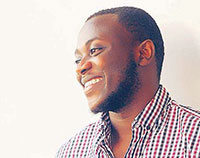 Michel Chikwanine & Jessica Dee Humphreys
Dear Reader,
When I was five years old, my friends and I were kidnapped from our schoolyard and forced to become child soldiers as part of an ongoing war in my home country of the Democratic Republic of Congo. Even though I was just a little kid, I managed to escape and make my way back to my family. So many of the others kidnapped that day weren't as lucky. In fact, children all over the world continue to be used as soldiers in armed conflict.
I wrote this graphic novel for two reasons: 1. To make sure kids ages 10 and up know about the ongoing use of child soldiers worldwide, and 2. To honor my father, who was assassinated because of his activism when I was twelve. He would want me to share my story.
Watch the trailer and learn more:
Email me at
childsoldierbook@gmail.com
for a chance to win a signed copy of my book and a poster.
Peace,
Michel Chikwanine
www.kidscanpress.com/childsoldier
Child Soldiers / Michel Chikwanine & Jessica Dee Humphreys / CitizenKid/Kids Can Press

Price: $17.95 / ISBN: 978-1771381260 / Published: February, 2016

Ages 10-14 / Graphic Novel/Memoir