KidsBuzz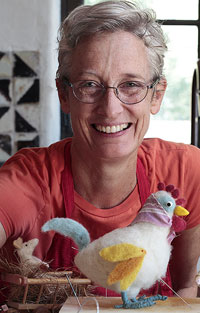 Molly Coxe
Dear Reader,
Thank you for your enthusiasm for the first two Short Vowel Adventures,
Rat Attack
, and
Princess Pig
.  Here's WET HEN, a sweet spring story featuring the "short o" sound, endless rain (Think Noah's Ark starring a broody Hen and her best friend, Ben, a cheerful fieldmouse), rainbow-colored eggs, and (after 21 days afloat in the tiny hen house) baby chicks (also in rainbow colors)!
I hope you and your young readers enjoy Wet Hen as much as I enjoyed writing the story and creating the characters.  (To watch a 30 second video on how I make the characters from wire and wool, see my website
www.BraveMouseBooks.com
). Happy Spring!
Email me at
bravemouse1@gmail.com
to enter to win a signed copy.
Molly Coxe
"Early readers will pore over the pictures enjoying each little detail. As an unusual approach to easy readers, with photos of real stuffed animals and their accessories, this is new and interesting series. VERDICT Parents and teachers can use these titles for reading as well as writing activities." —
School Library Journal
"They're adorable, and silly, and a whole lot of fun to read! Give(s) new readers confidence to read aloud. There's repetition, rhyming, rhythm to the prose." —Smart Books for Smart Kids
"I love the BraveMouse series, and I know our youngest readers and listeners will love them, too. (And they have plenty of "heart," too!) —A Well Read Librarian
Wet Hen / Molly Coxe / BraveMouse Books

Price: $3.99 / ISBN: 978-1940947303 / Published: May, 2015

Ages 5-7 / Paperback