KidsBuzz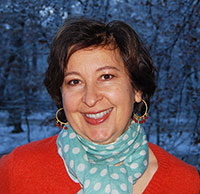 Firoozeh Dumas
Dear Reader,
When I was seven years old, my teacher, Mrs. Sandberg, called my father and said, "Mr. Jazayeri, you need to take Firoozeh to the public library. She loves books." By the end of the week, I had my own library card and my life was changed forever. (I still remember that my name, with its glorious sixteen letters, did not fit on the card.)
IT AIN'T SO AWFUL, FALAFEL, is based on real events that happened to me in the late 1970s and early 1980s. I laughed and cried while writing the novel and reliving those years. I hope my story resonates with everyone who has ever felt like an outsider.
I usually write adult nonfiction, which isn't that hard. I don't have to make up anything; I just retell a story in an interesting way.
After writing twenty-six versions of this book over a seven-year period, I can now say there are two details that have been geared toward a younger audience, the title and the historical content. That's it. I always assume my reader is an intelligent person looking for authenticity. That detail will never change. I don't care if my reader is nine or ninety-nine — authenticity resonates with everyone.
Figuring out how much history to include in a book of historical fiction for a younger audience took me about two years. I didn't want to write a history book; I wanted to tell a really funny, touching, engaging story that just happens to include historical facts. That is harder that it sounds, and I hope I got it right. As a far the title goes,  IT AIN'T SO AWFUL, FALAFEL came to me in the middle of the night, when I often have my best ideas. The minute I heard it, I knew that was it. It was a great feeling.
Click here
for a chance to win one of five ARCs!
Firoozeh Dumas
ItAintSoAwfulFalafel.com
FiroozehDumas.com
"Firoozeh Dumas's unique gift is her ability to use her wry, bold, but always gentle wit to tell serious stories about family, heritage, and loss... In this era of suspicion and paranoia, [this book] offers a tender and compassionate glimpse into the immigrant experience." —Khaled Hosseini, bestselling author of
The Kite Runner
"...keeps readers engaged with the very real and relatable difficulties of finding friends after moving, dealing with family issues both domestic and abroad, and discovering one's own identity in middle school." —
School Library Journal
"This book is a sheer delight—rambunctious and rich... Firoozeh Dumas writes with the perfect light touch that makes us wonder once again: Who is running the big world and why not this person, please?" —Naomi Shihab Nye, novelist and poet
It Ain't So Awful, Falafel / Firoozeh Dumas / Clarion Books

Price: $16.99 / ISBN: 978-0544612310 / Published: May, 2016

Ages 10-12 / Hardcover / Middle-grade fiction