KidsBuzz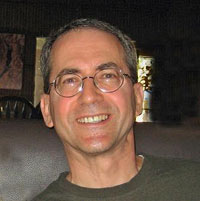 Lance Erlick
Dear Reader,
I have always been drawn to fictional tales to help explore the 'what if' of our world.
Six years ago, concerned by public figures spouting nonsense, I had visions of our world out of control. From that came a dystopian story, populated by determined characters after another civil war. One character stood out. Annabelle took to narrating her story to me, and it became
The Rebel Within
, the story of a rebellious girl at odds with her society, trying to follow conscience to do right by her family and friends. Then readers asked for a sequel — voila, THE REBEL TRAP, just released.
Secrets, betrayals, courage, and difficult choices. I invite you to enter Annabelle's world.
Voices in sixteen-year-old Annabelle Scott's head aren't God or signs she's going mad — yet. Despite being a Mech Warrior recruit, she rebels against her female-dominated regime by not only refusing to kill Morgan, a handsome boy she's attracted to, but also helping him escape.
Annabelle's commander gives her auditory implants and contact cameras for an undercover assignment to investigate her corrupt police captain. Morgan hacks the implants to plead for her help in freeing his brother. As a pawn in a bigger game, can she help Morgan and discover the link between an attempted assassination of her adoptive mom, her police captain, and the geek institute that holds Morgan's brother without falling into a trap that could destroy her family and get her killed?
Kirkus Reviews
calls THE REBEL TRAP an "inventive dystopian sci-fi drama" and a "well-thought-out science-fiction world."
Thanks for taking the time to read this far. For a chance to win an autographed copy of THE REBEL TRAP (US only) or one of two Kindle copies, email me at
lerlick89@gmail.com
by October 29, 2014 with your preference (print or Kindle) and your approval to be added to my occasional newsletter that will have news on new stories and special promos.
Lance Erlick
www.LanceErlick.com
Follow on Twitter:
@LanceErlick
Like on Facebook:
www.facebook.com/AuthorLanceErlick
Kindle link:
www.amazon.com/Lance-Erlick/e/B00C1PKYSA/
The Rebel Trap / Lance Erlick / Finlee Augare Books

Price: $12.95 / ISBN: 978-0991464319 / Published: October, 2014

Ages 12+ / Paperback / YA Sci-Fi