KidsBuzz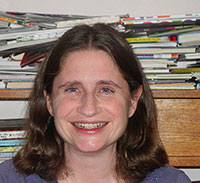 Laura Gehl
Dear Reader,
As a kid, I loved big words. As a parent of young children, I loved picture books that would teach my kids new vocabulary in a fun way. I am proud that JUDGE JULIETTE is not just the humorous story of a strong girl with a passion for justice...but also a book that introduces kids to legal vocabulary. Terms like "adjudicating" and "speculation" are sprinkled throughout the text, with a glossary at the end.
I hope JUDGE JULIETTE will get kids excited to learn how courtrooms work. I hope young readers will start holding their own mock trials. And I hope that adults and children alike will wait with bated breath to discover how Juliette will rule in the most difficult case of her career...
Mom v Dad
.
Check out my website for the teacher's guide, and send me an email at
authorlauragehl@gmail.com
for the chance to win a free copy!
Laura Gehl
www.LauraGehl.com
  This story of a young girl with a dream is a refreshing addition to career shelves. —
School Library Journal
Judge Juliette / Laura Gehl / Sterling Books

Price: $16.95 / ISBN: 978-1454934325 / Published: August, 2020

Ages 4-7 / Picture Book