KidsBuzz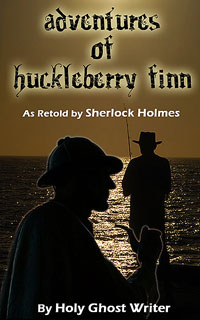 Holy Ghost Writer
Dear Reader,
I have always found great literary characters stand the test of time. They remain in the minds of us all our lives. Two such characters will always be Huck Finn and Sherlock Holmes.
So I decided wouldn't it be fun to retell the classic Huckleberry Finn story, with some illustrations and an added twist. It would be told from the perspective of Sherlock Holmes.
Now readers everywhere could get the feel for both of these classic literary characters in the same story. I hope it is as fun for you to read as it was for me to write.
And email
Books@illuminatedpublications.com
to enter to win a free copy.
Enjoy,
Holy Ghost Writer
www.MysteriousAuthor.com
Adventures of Huckleberry Finn as Retold by Sherlock Holmes / Holy Ghost Writer / CreateSpace

Price: $14.99 / ISBN: 978-1499323153 / Published: May, 2014

Ages 7-18 / Chapter Book