KidsBuzz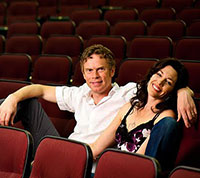 Katie Goodman & Soren Kisiel
Dear Reader,
From across the restaurant table, we could hear a tiny voice over our friend's cell phone: "Mommy, are you ever coming home?"
Oh my gosh, we thought, he actually suspects she might never come home from having dinner with us! What could he possibly think was happening to her out in the world?
And thus, THE NIGHT OUR PARENTS WENT OUT was born: two children with overactive imaginations, and a quick-witted babysitter who converts their worries into tales of their parents brilliantly solving their way out of each problem.
"Assaults by evil unicorns! A giant squid! Aggressive ostriches! A vampire usher! Deliciously playful... Fun-filled!" —Judith Viorst, best-selling author of 
Alexander and the Terrible, Horrible, No Good, Very Bad Day
"Imagination is where the real fun is. First-time authors Goodman and Kisiel, a husband-and-wife team, run a comedy troupe, and it shows: the children's exchanges with their babysitter have the freewheeling, anything-goes energy of improv." —
Publishers Weekly
"The co-authors are professional improv/stand-up performers, and that background shows in the rapid, free-form way scenarios develop as they're tossed back and forth. ...Entertaining." —
Kirkus Reviews
This book is the perfect antidote to childhood fears, calming the worried and entertaining the rest of us. Take a glimpse at our trailer, and see what some other adorable kids have to say about their worries,
here
.
Email us at
info@katiegoodman.com
for a chance to win a signed copy!
Katie Goodman & Soren Kisiel
KatieGoodman.com/
The Night Our Parents Went Out / Katie Goodman & Soren Kisiel / POW!

Price: $16.95 / ISBN: 978-1576877470 / Published: November, 2015

Ages 3-8 / Picturebook