KidsBuzz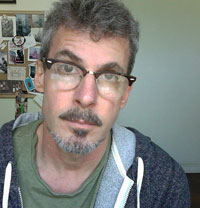 Carter Goodrich
Dear Reader,
In this, the third episode of the Zorro and Mister Bud series, Mister Bud finds himself trapped in the dreaded cone for a day, and must resign himself to life inside a funnel. It doesn't affect his good nature, though, and even though his great friend and partner, the excitable Zorro, isn't much help, Mister Bud's forgiving nature preserves their friendship and wins the day.
I wanted to put the exclamation point on who these two dogs really are, and how they've come to know, trust, and love one another, despite their wildly differing personalities. Mister Bud is kind, wise, and unselfish. Zorro is slightly more concerned about himself, and not terribly sensitive to the plight of others. Theirs is a friendship forged in the tradition of yin and yang, and sealed with a shared and uncompromising devotion to THE SCHEDULE.
Though it's easy to applaud Mister Bud, I feel that it's just as easy to love Zorro too, knowing that there is a little bit of both of them in all of us.
Carter Goodrich
www.CarterGoodrich.com
(Follow their adventures on
Facebook
and
Twitter
)
"A succinct, masterfully paced text.... Zorro and Mister Bud are quite a pair; readers will hope for more unpredictable but amusing adventures with them." —
Kirkus

"The humor and situations will appeal to any child who has ever experienced sibling rivalry. A great addition for kids looking for a story about dogs and for a canine-centered read-aloud." —School Library Journal
Mister Bud Wears The Cone / Carter Goodrich / Simon & Schuster

Price: $16.99 / ISBN: 978-1442480889 / Published: June, 2014

Ages 4-8 / Picture book