KidsBuzz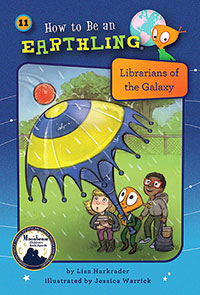 Lisa Harkrader
Dear Reader,
Being an Earthling is hard. Just ask Spork. He's a space alien who crashed his spaceship onto an elementary school playground. Now he has to figure out how to be an Earthling as part of his new third grade class. 
But being an Earthling can be tricky even if you were born here. Spork's Earth friends know this better than anyone. How can Trixie be kind when every act of kindness backfires? How can Piper be a good citizen when Jack plays dirty tricks to win the student council election? How can Newton be patient when the egg he has taken such good care of 
will not hatch
?
In each of my How to Be an Earthling books —
No Place Like Space
,
May the Votes Be with You
,
Planet of the Eggs
, and the just-published LIBRARIANS OF THE GALAXY — Spork and his friends tackle real-world problems on their way to becoming out-of-this-world Earthlings.
Each book tells a fun story, supports and extends creativity, problem-solving and reading skills, can be enjoyed by independent readers and read aloud to younger children, focuses on a positive character trait — cooperation, patience, generosity, acceptance — and subtly encourages kids to think about how their words and actions affect others AND includes activities related to the characters and each book's theme!
Email
info@kanepress.com
to enter to win a copy!
Happy reading,
Lisa Harkrader
www.kanepress.com/how-to-be-an-earthling
Download free How To Be An Earthling Activities!
Winner of the Moonbeam Gold Medal for Best Chapter Book Series
"A breezy, humorous lesson in honesty that never stoops to didacticism. The other ... volumes...address similarly weighty lessons...all with a multicultural cast of Everykids...A good choice for those new to chatpers." —
Kirkus Reviews
(on
Spork Out of Orbit
)
"This delightful chapter book series excites interest and rides gusts of humor and innovation to encourage kids to rethink all they experience from an alien perspective...challenges readers to think outside the box while embracing differences and reaching high for more enlightenment." —
Children's Bookwatch
"This book has short chapters and moves quickly through layers of action to keep reader interest high. Both this book and the series would be good additions for collections that need additional early chapter books. Recommended." —
School Library Connections
, for 
Take Me to Your Weeder
"Kids will love reading about Spork. Parents, taechers, and librarians will love reading aloud this series to those same kids." —Rob Reid, author of
Silly Books to Read Loud
"I'm so glad Spork landed on Earth! His misadventures are playful and sweet, and I love the clever wordplay!" —Becca Zerkin, former children's book reviewer for
The New York Times
Book Review and
School Library Journal
"A book where readers, kids, and aliens learn together, experiencing how words and choices affect all of us. It's simple, elegant, and very insightful storytelling." —
The San Francisco Book Review
"Young readers are going to love this series! Spork is a funny and unexpected main character." —Ron Roy, author of
A to Z Mysteries
,
Calendar Mysteries
, and
Capital Mysteries
Librarians of the Galaxy / Lisa Harkrader / Kane Press

Price: $6.99 / ISBN: 978-1635920246 / Published: January, 2018

Ages 6-9 / Paperback / Young Readers