KidsBuzz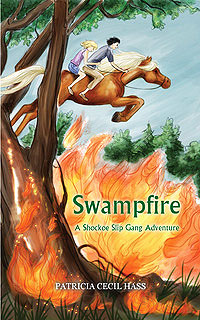 Patricia Hass
Dear Reader,
A mysterious creature haunts the Great Dismal Swamp — can the Shockoe Slip Gang discover its secret before it's too late?
The only thing better than going out into the world and having a great adventure is reading about a great adventure. Swamps and bears, wildfires and wild horses, and smart, resourceful kids make for the best kind of adventure; and I hope the kids you know have as much fun reading this book as I had writing it.  
I hope, too, that they'll like learning about the Great Dismal Swamp's environment: it's animals, birds, beautiful plants and trees and waterways.
SWAMPFIRE: A SHOCKOE SLIP GANG ADVENTURE follows my novel 
The Shockoe Slip Gang: A Mystery
, but you can read them in any order.
Patricia Hass
SWAMPFIRE
"A full blooded, fiery Arabian horse roaming the Great Dismal Swamp is an apparition worthy of anyone's summer vacation fantasies. [The Shockoe Slip Gang] attempt to lead the lost horse away from a pursuing game warden and his hounds. Sally's heroism is gratifying and the mosquitoes, snakes and scratchy thickets have a convincing sting." —
Kirkus Reviews
Swampfire / Patricia Hass / Windsong Press

Price: $8.99 / ISBN: 978-0578709871 / Published: July, 2020

Ages 8-12 / Paperback / YA