KidsBuzz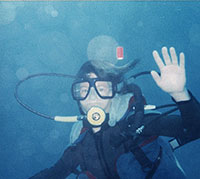 Polly Holyoke
Dear Reader,
When the sea has become humankind's last hope, a group of teens fights to survive beneath the waves. In THE NEPTUNE CHALLENGE, I continue the story of Nere Hanson, a shy girl who can talk to dolphins. Genetically engineered to live in the sea, Nere and her friends must go on a dangerous rescue mission and retrieve an invention that could help to save our world from climate change.
I am a scuba diver, and readers seem to think I do a terrific job of depicting Nere's undersea world. Visit my website at
www.PollyHolyoke.com
to see photos of colorful marine creatures, follow links to cool dolphin sites, and enter a contest to win a signed copy of Nere's story AND a dolphin necklace/bookmark.
If you like books about dolphins, friendship and adventure, you'll love THE NEPTUNE CHALLENGE.
Polly Holyoke
www.PollyHolyoke.com
THE NEPTUNE PROJECT 
Texas Bluebonnet Award 2014-15 Master List
Maryland Black-eyed Susan Book Award Nominee
Bank Street's 2014 List of Best Children's Books
The Neptune Challenge / Polly Holyoke / Disney-Hyperion

Price: $16.99 / ISBN: 978-1484713457 / Published: May, 2015

Ages 10-14 / Middle-grade fiction