KidsBuzz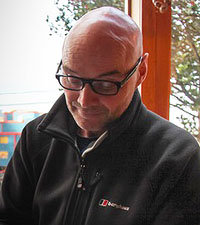 Gregory Hughes
Dear Reader,
After hearing a friend describe Winnipeg as "a land so flat you can watch your dog run away for three days," I had to see the landscape for myself. And when I did, I was so taken with the image I decided on the spot to set a book there. It became UNHOOKING THE MOON, a brother-sister road trip adventure — and that line made it into the book too (see of you can find it). I was also inspired by people in my life — Rat and Bob are based on my niece and godson — and by my own travels.
Thank you for reading my book and I hope you enjoy reading it as much  as I enjoyed writing it.     
Email
publicity@quercus.com
to enter to win a free copy.
Cheers,
Gregory Hughes
UNHOOKING THE MOON
"Rollicking ... poignantly wrought, concluding on a note, of hope and fraternal love." —John Freeman Gill, The
New York Times
Book Review
"Though many of Hughes' characters will sink emotional hooks into readers, Rat takes and earns center stage by glibly charming the pants off every adult, showing a winning mix of quick wits and vulnerability... . Rousing adventures on the not-so-mean streets, with heart aplenty." —
Kirkus Reviews
(starred)
"This is an antic, swift-paced mini-epic filled with action and adventure. As a bemused Joey asks, 'Is there ever a dull moment around you kids?' The answer, happily, is 'no.'" —
Booklist
"Quirky, poignant ... From First Nation Natives in Winnipeg to gangsters and a rap star in Manhattan, Bob and the Rat interact with a predictably wild array of characters; readers will appreciate Bob's seesawing between his determination to protect his 'drama queen' of a sister and his frustration at her recklessness." —
Publishers Weekly
"The colorful characters and exciting ... readers will be engrossed in the story right up to the unsettling conclusion... fast-paced and entertaining." —Marie Orlando, 
School Library Journal
Unhooking the Moon / Gregory Hughes / Quercus

Price: $7.99 / ISBN: 978-1623658465 / Published: October, 2014

Ages 10-14 / Paperback / Middle-grade fiction