KidsBuzz
The Journal of Angela Ashby


Meet the author
Liana Gardner
(Ages 9-12)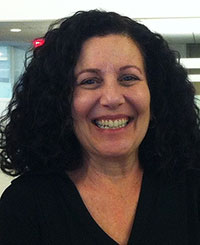 Michele Weber Hurwitz
Dear Reader,
Can we talk about sitting? Kids sit in school. A lot. And they fidget. A lot.
For seventh-grader Ethan Marcus, that means scomas (school-comas) and what his dad calls ESD: Ethan Squiggle Disease.
One day, he's had enough. Ethan doesn't cause trouble, he just stands up in class to "protest" the long hours of sitting. His spontaneous protest doesn't sit so well with his rule-oriented teacher. When he's assigned two afternoons of "reflection," the faculty advisor suggests Ethan channel his energy into Invention Day. A scientist he isn't; that's his sister Erin's department. She doubts his ability, but Ethan gets an idea and realizes it could solve his problem. Can he actually pull it off?
Narrated by five seventh-graders, find out what happens when one kid decides to take a stand against sitting down.
Email
micheleweberhurwitz@gmail.com
for a chance to win a signed copy.
Michele Weber Hurwitz
MicheleWeberHurwitz.com
Ethan Marcus Stands Up / Michele Weber Hurwitz / Simon & Schuster/Aladdin

Price: $16.99 / ISBN: 978-1481489256 / Published: September, 2017

Ages 8-12 / Middle grade fiction