KidsBuzz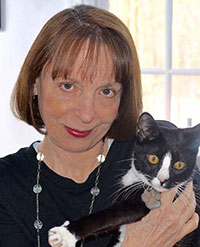 Pamela Jane
Dear Reader,
When C falls into the garbage can, it's up to other letters to save C from landing in the dump. But four letters are missing! Could they be the answer to saving C?
As a little girl, I saw letters as living beings — mischievous, ingenious, and inventive. So I wrote an alphabet book in which the letters are alive and brimming with personality. Hina Imitaz's zingy illustrations reflect our laughter and joy working together. I hope you enjoy this adventure, puzzle, word game — book!
Email
pamelajane@pamelajane.com
to enter to win a free copy.
Pamela Jane
PamelaJane.com
"A nifty caper showcasing teamwork, letter recognition, and word formation." —
Kirkus
C Jumped Over Three Pots and a Pan — And Landed SMACK in the Garbage Can / Pamela Jane / Schiffer Publishing

Price: $9.99 / ISBN: 978-0764358777 / Published: September, 2019

Ages 4-7 / Picture Book