KidsBuzz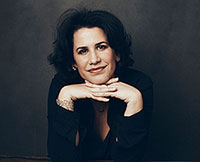 Susie Jaramillo
Dear Reader,
As a Latina mom, I couldn't find board books of the rhymes I grew up with.
So I created the series Canticos: timeless Latino nursery rhymes — the first, LITTLE CHICKIES/LOS POLLITOS is out in time for Easter.
These books make learning languages easy with their reversible design. They promote a sense of community and connect Hispanic kids to their past.
Email 
info@encantosmedia.com
 to enter to win a free copy and see for yourself.
Please enjoy, or as we say in Spanish: Disfrutalo!
Susie Jaramillo
www.CanticosWorld.com
"Truly worthy and recommended for the shelves of every public and school library....A beautiful accordion-style board book featuring one of the most well-known Spanish songs for children. With every page turn, there are flaps to open and wheels to spin, for a fully immersive, interactive reading experience." — Luciana Acosta,
School Library Journal
"So beautifully designed and such fun." — Mary Alice Garber, Politics and Prose Bookstore
"I love the Canticos books because they are so beautiful. The production values are much higher than we usually see from a small press. Bi-lingual books are always a challenge to come by, so Encantos seems to have found a gap in the market with LITTLE CHICKIES/LOS POLLITOS and the others coming this year. Plus digital content is always appreciated. I don't see books like this every day. It's easy to get excited about them." — Clare Doornbos from DIESEL, A Bookstore in Larkspur
"I love the board book design with flaps as well as the reversible Spanish design. We find that our children that come in love flaps and moveable parts and that also works well when we are doing story time to get children involved with a story.... a great addition to our Story Hour collection." — Arin Burton, Youth Services, Lima OH Public Library
Little Chickies/Los Pollitos / Susie Jaramillo / Encantos Media

Price: $14.99 / ISBN: 978-0996995900 / Published: March, 2016

Ages 1-4 / Bi-lingual novelty board book