KidsBuzz
I Do Not Like the Rotten Egg Scent in Yellowstone National Park


Meet the author
Penelope Kaye
(Ages 4-8)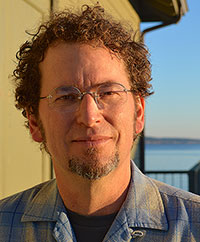 Patrick Jennings
Dear Reader,
I'm a cat person. I adopted my first feline the year I wrote my first book, twenty years ago. I've lived with five more cats since. One of my books,
Guinea Dog
, was inspired by and dedicated to one of my cats, Soobie. 
Yet during those twenty years, I did not write a single book about a cat. I wrote stories about dogs, guinea pigs, snakes, ferrets, bats, rats, owls, even pigeons, but no cats. Not until now.
Two years ago, while visiting a Michigan elementary school, some fifth-graders brainstormed a story about a cat that couldn't sleep. Later I created the character Hissy Fitz, a very grouchy British Shorthair, and wrote a story about him. 
I wonder if you have a story about your pet, or pets. I bet you do. Visit my website, 
patrickjennings.com
, click on Contact (
www.patrickjennings.com/contact
), and share your story with me.
Email my publisher —
margaretcoffee@egmont.com
— to enter to win a free copy.
Patrick Jennings
@theHissyFitz
"This smartly written beginning chapter book introduces young readers to a cat named Hissy... Readers will chuckle along as they see a day played out from Hissy's point of view. With its short chapters, snappy dialogue, and fast-moving plot, this book will be popular with newly independent readers who enjoy Megan McDonald's "Stink" books (Candlewick), Suzy Kline's "Horrible Harry" titles (Viking), Hilary McKay's "Lulu" series (Albert Whitman), and other breezy chapter books." —
School Library Journal
"Young fans of YouTube's Grumpy Cat will be smitten with Hissy, the crabby feline hero of Jenning's (the Guinea Dog series) latest animal tale." —
Publishers Weekly
"...cat lovers will see their feline friends in Hissy." —
Kirkus Reviews
Hissy Fitz / Patrick Jennings / EgmontUSA

Price: $14.99 / ISBN: 978-1606845967 / Published: January, 2015

Ages 7-9 / Chapter Book