KidsBuzz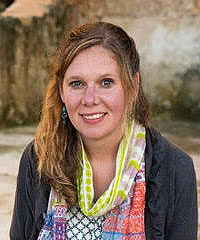 Cordelia Jensen & Laurie Morrison
Dear Reader,
Having worked as a counselor for many years, I always wanted to write about a kid in foster care who, despite being in safer circumstances, maintains a fierce loyalty to a biological parent. This kid became Sierra in EVERY SHINY THING, which I co-wrote with my friend Laurie Morrison.
Half in verse and half in prose, EVERY SHINY THING is the story of Sierra and her new friend Lauren, who lives next door to Sierra's foster parents in a wealthy neighborhood. Lauren becomes obsessed with fighting inequality and the girls concoct a Robin Hood scheme to right some societal wrongs. However, Sierra has a lot to lose when the plan goes awry. This is a book about justice, friendship, family, and what it means to care for others and for yourself.
Newbery winner Erin Entrada Kelly called it "inventive and emotional," and it recently came out in paperback!
To enter to win a free copy email me at
cordeliaj@gmail.com
.
Cordelia Jensen
www.CordeliaJensen.com
"Thoughtful readers will find a lot to like here — sadness, suspense, even humor. They may even pause to consider their own privilege." —
School Library Journal
"Each character is well defined . . . Readers will hope for a better life for both girls. This middle grade novel will find a ready audience in most libraries." —
VOYA
Magazine
"Sierra's narrative, in poetry, captures her spare, cautious, and constrained life. Lauren's prose is rich and descriptive, much like her own experiences. Together, the contrasting narratives tell a touching story about friendship, loyalty, and resilience that will have lots of appeal." —
Booklist
"Two authors combine their efforts to relate the intertwined tales of a pair of young teens in trouble...  Many of the complications of human behavior are on display here, some of them painful to navigate." —
Kirkus Reviews
"Like a kaleidoscope, Lauren and Sierra's shifting perspectives will make you look at the world from different angles, transforming in unique and beautiful ways. This story shines." —Lisa Graff, author of
Lost in The Sun
"This should hit the mark for middle grade readers who enjoy life's complexities paired with the intrigue of secrecy." —Erin E. Moulton, author of
Flutter
"An inventive and emotional story about family and friendship." —Erin Entrada Kelly, Newbery Honor winner for
Hello, Universe
Every Shiny Thing / Cordelia Jensen & Laurie Morrison / Abrams

Price: $8.99 / ISBN: 978-1419733772 / Published: April, 2019

Ages 10-14 / Middle Grade Fiction