KidsBuzz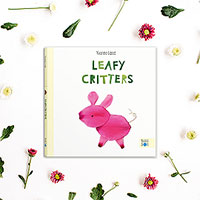 Yvonne Lacet
Dear Reader,
Isn't nature full of magical surprises? When I take a walk in the woods I like to gather some of the interesting things I find. Back in my studio, these natural materials turn into creatures. You never know what the found objects can transform into!
As you look through the pages of LEAFY CRITTERS, you'll see how your imagination can turn pieces of nature into different things you recognize. See which animals catch your eye and create them yourself! Or make something completely new.
I hope you enjoy the exploration as much as I do. LEAFY CRITTERS has been called "a program in a book" and "a unique and practical art-and-craft book, perfect for kids and families (and teachers and librarians!) who love Eric Carle." Perhaps you'll be inspired to use it for a spring or summer (virtual?) story or activity time too?
Plus it's printed on FSC-certified paper with vegetable-based inks. All natural!
Email
hello@bluedotkidspress.com
 for a chance to win a free copy.
Here's to making leafy critters with your kiddos.
Imaginatively yours,
Yvonne Lacet
bluedotkidspress.com/leafy-critters
"BEST BABY BOOKS: 52 MUST-HAVES FOR 2020. Fantastic and highly recommended. The author uses nature (leaves, twigs, flower petals) to make beautiful critters like lions, pigs, flamingos, and one of the most beautiful butterflies we've ever seen! Simple, creative, and inspiring interactions with nature." —
Mommyhood 101
"Part nature book, part art book, and one hundred percent a book on creativity and imagination!" —Kristin Guay, Starred Review,
Youth Services Book Review
"A fun photographic picture book... shows all the things you can do with materials found in nature with a little creativity and imagination. You can turn flower petals into chickens, leaves into a turtle, other leaves and stems into a flamingo, yet other petals into a polar bear the possibilities are endless and the photos in this book provide a good guide to start making your own artistic creations." —
Book Riot
"Read about nature and animals, curled up together on the sofa with your little ones. Children's book publisher Blue Dot Kids Press has some gorgeous picture books to choose from. Blue Dot Kids Press is very environmentally friendly, using only vegetable-based printing inks and paper certified by the Forest Stewardship Council®. They also contribute a percentage of sales to environmental causes." —
San Francisco Bay Area Moms
Leafy Critters / Yvonne Lacet / Blue Dot Kids Press

Price: $16.95 / ISBN: 978-1733121224 / Published: May, 2020

Ages 3+ / Hardcover